by
Pardeep
Mon Mar 18, 2013 5:32 am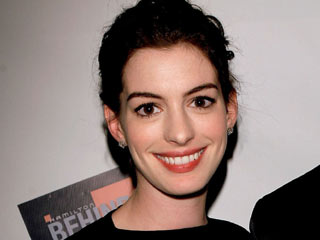 If you were under the impression that Princess Diaries actress Anne Hathaway was a goody-goody, you may want to cover your eyes. She's dispelling those notions in a recent interview with Marie Claire magazine.
The Havoc star says that she doesn't mind shedding her clothes for the camera. "I don't actively search for (movies) that I can get without clothes in. It's not the most fun requirement of the job, but nor is it something that I would ever NOT do a job because of. It is what it is. Some people choose not to do it on moral grounds; I think that's a shoddy argument."
In fact, Hathaway went top*ess in both Havoc and Brokeback Mountain, but turned down the lead role in Knocked Up because, "it was going to show a va**na – not mine, but somebody else's. And I didn't believe that it was actually necessary to the story."
Hathaway enjoys making people cringe by sharing how "not a prude" she is. "I love (the band) Peaches. When people are all like, 'Do you think you have a squeaky-clean image?' I'm like, 'Could a squeaky-clean girl know all the lyrics to 'Teaches of Peaches'? I mean, my favorite song is called (Eff) the Pain Away.'"